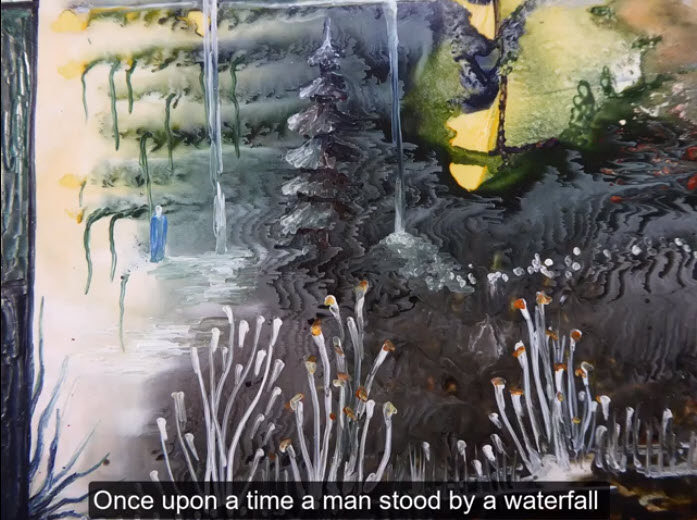 Once upon a time a man stood by a waterfall …
This is a narrative story created from just one A3 encaustic art painting. In the video below you can see how the image was photographed to find a variety of illustrations within the overall painted creation.
The complete painting is below the video.
It's a nice story embracing humanity with accompanying music which was also self-created. I hope you like and enjoy it …
Once upon a time a man stood by a waterfall.
He walked a little, and found some steps.
Climbing the steps, he came to a bridge.
The bridge stretched far ahead.
At the far side there were others.
They were enjoying nature together.
They contemplated, and time slowed down.
What did it all mean?
Some were city people …
… swept up into imagined futures.
Some enjoyed working upon the earth.
Some chose solitude.
The water kept falling, bringing life.
There was movement in everything.
One day a wise man visited.
The sands of time were in him.
The people listened to his words.
He spoke truth to them.
Life and death were interwoven.
Clouds gave water and life to the earth.
Rivers flow back to the sea.
The endless cycle of life, always moving.
Dreams finding shape and form.
Nature and beauty evolving.
The man was happy by the waterfall.
The story never ended.
Creation could not rest, could not finish.
Remembering the waterfall …
… the man walked on, content.